Are you a pirate or a ninja? Gaultier is either a pirate or a man with a crush on Johnny Depp. One may lead to the other, it's difficult to tell without the ability to ask. His S/S 2008 collection was very revealing though, he's always been quite passionate about expressing fun through his collections and this season really didn't disappoint. There appeared to be at times a combination of styles slamming into each other and creating the type of fashion masterwork that only comes out of the best designers. Note the pirate-flapper overlap and if you take a look at the rest of the collection you'll see what I would describe as a complete inability to separate out periods of time in the fashion industry, which is of course what you want from a designer in 2007.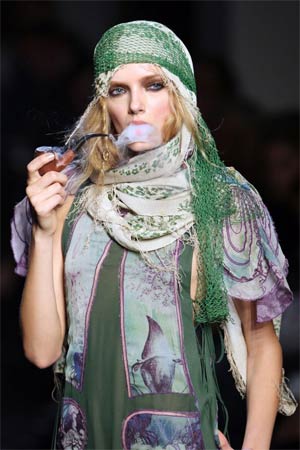 Manish Arora created a tribute to pop art that looks absolutely astounding. I can't put my love of these designs into words so I'm just going to whack some photos on here. I think a love-hate relationship will be instantly apparent to most people. Some of the dresses should be vile but somehow the cut and colour and utter vibrancy make them appealing. I really love the big, A-line dresses that wash over the model's bodies and create a completely different figure.
At the other end of the spectrum, coming from an alien race residing at the opposite end of the fashion galaxy is Martin Margiela, his clothes in a sense are probably more beautiful, certainly minimalistic but not quite as exciting as Gaultier and Arora.
Finally Balenciaga. Oh how I enjoy these garments, I find this collection the oddest but most enjoyable of this year. I would buy a piece from the women's show if I could, the structural quality of these dresses really appeals.